2243 - 8" x 4" x 7/8" 2 Count Standard Cupcake Insert, Reversible White/Brown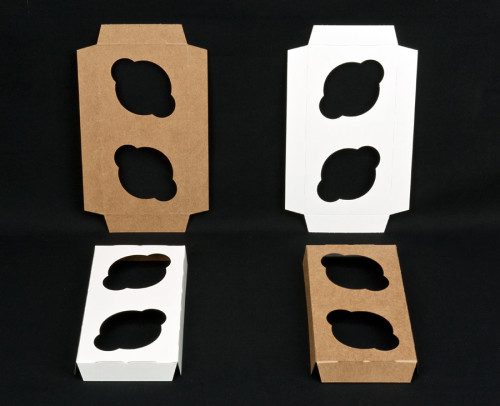 One cupcake is nice, but two are twice as nice. This cupcake insert looks great in any of our 2 count cupcake boxes. A lot of you asked your Box Shop to create a double cupcake box and tray, so we did! The cupcake tray and box work so well together because they were literally made for each other. Remember, the insert is reversible - white on one side / natural brown on the other. Set the stage for two of your sweetest eats using this fancy little insert.

Click here to view the dimensions of all our Cupcake Inserts.


Holds 2 Standard Cupcakes in a 8 x 4 x 4 Inch Cupcake Box.
Reviews
By Aricel D.
from Chicago, illinois
on May 8, 2020
Verified Buyer
I have ordered from this company for many years. Their products are top-notch and the delivery is the best in the country. Brpboxshop.com will always be the company I use for all my baking needs.
Best Uses
Everything baking related.
Perfect for it's intended use
By Chav
from Brooklyn NY
on March 12, 2017
Verified Buyer
Boxes are exactly as pictured, and make a very nice presentation.
Customer service contacted me for shipping issues and delivered the taxes very fast thank you .
By L N.
from NY
on January 20, 2017
Verified Buyer
I like the fact that the cupcake inserts were versatile and can be used with the white or brown boxes. My cupcakes fitted perfectly into the slots.
Cupcake Inserts and Boxes
By Darla J.
from North Dakota
on December 28, 2016
Verified Buyer
I have used inserts and boxes from other companies but these are the best! I wouldn't buy inserts and boxes from any other company!
Love using these cupcake inserts!
By natalie
from Michigan
on March 21, 2016
Verified Buyer
Amazing customer service. Great Site!
Ask & Answer
You May Also Like...
3481 - 8" x 4" x 1/2" 2 Count Stumpy Standard Cupcake Insert, Reversible White/Brown

$30.10 per Case (100 pieces)

$14.30 per Pack (10 pieces)

3396 - 8" x 4" x 4" White/White Lock & Tab Box with Window

$54.18 per Case (100 pieces)

$18.86 per Pack (10 pieces)

3411 - 8" x 4" x 4" Black/White Lock & Tab Box without Window

$62.56 per Case (100 pieces)

$20.32 per Pack (10 pieces)

3400 - 8" x 4" x 4" Diamond Blue/White Lock & Tab Box with Window

$71.48 per Case (100 pieces)

$22.32 per Pack (10 pieces)

3037 - 8" x 4" x 4" Diamond Blue/White Lock & Tab Box without Window

$62.56 per Case (100 pieces)

$20.32 per Pack (10 pieces)

3039 - 8" x 4" x 4" Chocolate/Brown Lock & Tab Box without Window

$54.16 per Case (100 pieces)

$18.90 per Pack (10 pieces)

3397 - 8" x 4" x 4" Pink/White Lock & Tab Box with Window

$71.48 per Case (100 pieces)

$22.32 per Pack (10 pieces)

3243 - 8" x 4" x 4" Pink/White Lock & Tab Box without Window

$62.56 per Case (100 pieces)

$20.32 per Pack (10 pieces)

3398 - 8" x 4" x 4" Red/White Lock & Tab Box with Window

$68.74 per Case (100 pieces)

$21.76 per Pack (10 pieces)

3399 - 8" x 4" x 4" Brown/Brown Lock & Tab Box with Window

$46.78 per Case (100 pieces)

$17.52 per Pack (10 pieces)

2369 - 8" x 4" x 4" Brown/Brown Lock & Tab Box without Window

$39.60 per Case (100 pieces)

$15.98 per Pack (10 pieces)

2047 - 8" x 4" x 4" White/Brown Lock & Tab Box without Window

$45.26 per Case (100 pieces)

$17.04 per Pack (10 pieces)

3925 - Natural Brown Tulip Cupcake Liner 2" x 3 1/2"

$91.62 per Case (1000 pieces)

$25.86 per Pack (100 pieces)

3926 - Chocolate Brown Tulip Cupcake Liner 2" x 3 1/2"

$94.52 per Case (1000 pieces)

$26.44 per Pack (100 pieces)

3927 - Natural/ Dark Brown Print Tulip Cupcake Liner 2" x 3 1/2"

$94.52 per Case (1000 pieces)

$26.44 per Pack (100 pieces)

3928 - Natural/Red Print Tulip Cupcake Liner 2" x 3 1/2"

$90.92 per Case (1000 pieces)

$25.72 per Pack (100 pieces)

3929 - Natural Brown Lotus Cupcake Liner 2" x 3 1/2"

$86.02 per Case (1000 pieces)

$24.74 per Pack (100 pieces)