1732 - 8" x 8" x 5/8" 4 Count Stumpy Jumbo Cupcake Insert, Reversible White/Brown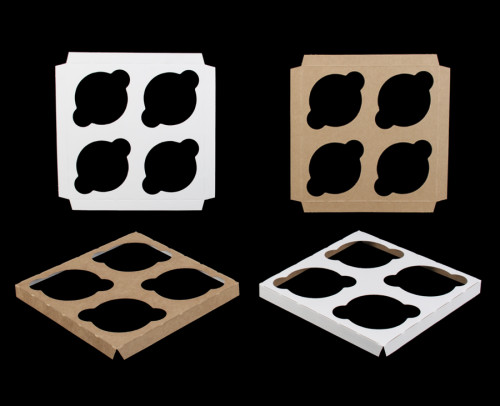 Holds 4 Jumbo Cupcakes in a 8 x 8 x 4 inch Cupcake Box.
Reviews
Ask & Answer
carolyn
from Fort Smith, Ark asked:
July 27, 2014
I want to put mini cheese cakes in these boxes. Is there any way I can get a sample to see if it will work?
1 Answer
Hi Caroly, Yes, you sure can! You can find the 'Get Samples' button on the left side of our webpage:)
Submitted by: Boxmaker Ann on July 28, 2014
You May Also Like...
1848 - 8" x 8" x 4" White/White Lock & Tab Box with Window

$70.50 per Case (100 pieces)

$21.38 per Pack (10 pieces)

3241 - 8" x 8" x 4" Diamond Blue/White Lock & Tab Box without Window

$80.10 per Case (100 pieces)

$23.16 per Pack (10 pieces)

2029 - 8" x 8" x 4" Pink/White Lock & Tab Box with Window

$89.98 per Case (100 pieces)

$25.20 per Pack (10 pieces)

3235 - 8" x 8" x 4" Chocolate/Brown Lock & Tab Box with Window

$81.72 per Case (100 pieces)

$23.90 per Pack (10 pieces)

2106 - 8" x 8" x 4" Brown/Brown Lock & Tab Box with Window

$63.68 per Case (100 pieces)

$20.28 per Pack (10 pieces)

2371 - 8" x 8" x 4" Brown/Brown Lock & Tab Box without Window

$54.36 per Case (100 pieces)

$18.08 per Pack (10 pieces)

1210 - 8" x 8" x 4" White/Brown Lock & Tab Box without Window

$70.00 per Case (100 pieces)

$20.82 per Pack (10 pieces)