1732 - 8" x 8" x 5/8" 4 Count Stumpy Jumbo Cupcake Insert, Reversible White/Brown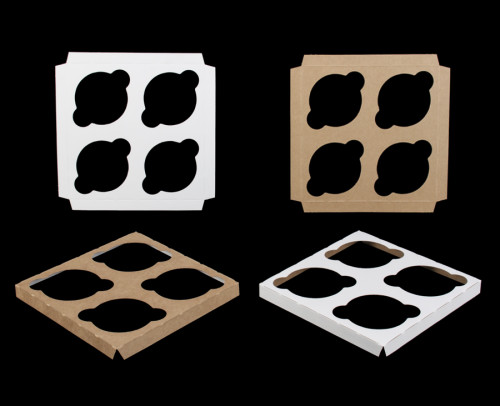 A jumbo packs a lot of cake into one treat, but even so, sometimes one is not enough. Our line of 4 count jumbo cupcake holders and boxes was created upon customer request. These holders, paired with our offering of jumbo cupcake boxes, make for a great presentation and method of transportation. The gravitational pull of jumbo cupcakes makes them want to smash into one another. Get these four count jumbo inserts and keep this powerful force of the jumbo cupcake universe in check. The holder keeps your mighty cakes equidistant and exquisitely separate. Set up these holders brown-side-up when coupled with our Natural Brown Cupcake Boxes.
Holds 4 Jumbo Cupcakes in a 8 x 8 x 4 inch Cupcake Box.
Reviews
Ask & Answer
carolyn
from Fort Smith, Ark asked:
July 27, 2014
I want to put mini cheese cakes in these boxes. Is there any way I can get a sample to see if it will work?
1 Answer
Hi Caroly, Yes, you sure can! You can find the 'Get Samples' button on the left side of our webpage:)
Submitted by: Boxmaker Ann on July 28, 2014
You May Also Like...
1848 - 8" x 8" x 4" White/White Lock & Tab Box with Window

$77.20 per Case (100 pieces)

$22.72 per Pack (10 pieces)

3241 - 8" x 8" x 4" Diamond Blue/White Lock & Tab Box without Window

$80.10 per Case (100 pieces)

$23.16 per Pack (10 pieces)

2029 - 8" x 8" x 4" Pink/White Lock & Tab Box with Window

$92.62 per Case (100 pieces)

$25.72 per Pack (10 pieces)

3235 - 8" x 8" x 4" Chocolate/Brown Lock & Tab Box with Window

$85.88 per Case (100 pieces)

$24.72 per Pack (10 pieces)

2106 - 8" x 8" x 4" Brown/Brown Lock & Tab Box with Window

$67.52 per Case (100 pieces)

$21.04 per Pack (10 pieces)

2371 - 8" x 8" x 4" Brown/Brown Lock & Tab Box without Window

$59.08 per Case (100 pieces)

$19.02 per Pack (10 pieces)

1210 - 8" x 8" x 4" White/Brown Lock & Tab Box without Window

$75.56 per Case (100 pieces)

$21.94 per Pack (10 pieces)