1500 - 26" x 18" x 7/8" 3 Dozen Standard Cupcake Insert, Reversible White/Brown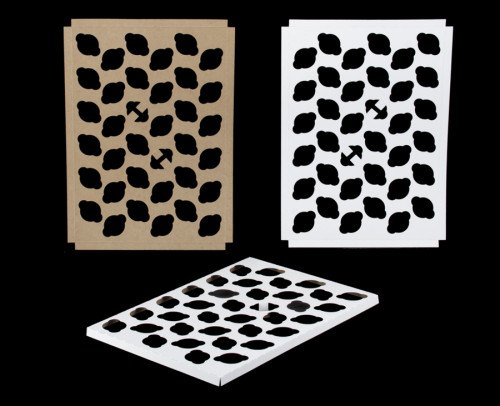 You are proud of your cupcakes and we are proud to get to serve you with cupcake boxes and inserts that compliment and protect your personalized works of smile-inducing sculpture! Three dozen cupcakes take a lot of love, a lot of time, and just a lot of work. You want to get all of your carefully crafted confections to their big reveal without them moshing into one another and you want them to show up packaged to impress! This three dozen cupcake insert working in concert with your favorite Box Shop three dozen cupcake box will have your cupcakes arriving in style. Present three dozen of your cupcakes in professional packaging that performs to showcase your unique sweets.

Click here to view the dimensions of all our Cupcake Inserts.


Holds 3 Dozen Standard Cupcakes in a 26 x 18 x 4 Inch Cupcake Box.
Reviews
By Anne
from Des Moines, IA
on July 31, 2017
Verified Buyer
Yet another great solution that I didn't even know I needed! These inserts are great. I had no issues with my cupcakes tipping or moving around and they fit the box perfectly.
By ann m.
from santee, californoia
on July 5, 2017
Verified Buyer
Thank you for the speedy delivery. The product is exactly what I needed. Thank you for having it in stock.
Great inserts, time saver!
By Chelle W.
from Altoona, Iowa
on June 18, 2016
Verified Buyer
Sturdy inserts that holds 3 dozen cupcakes and fits into a full sized sheet cake box. BRP does it again with their great, high quality and useful product design.
for 24 and 36 cupcake inserts
By Mary L.
from Cincinnati, Ohio
on March 22, 2016
Verified Buyer
These are perfect for our cupcakes. They fit well and the cupcakes don't touch.
Ask & Answer
Andrea Ballus
from San Francisco, CA asked:
March 3, 2014
Will this insert fit into a standard sheet pan? Thank you!
1 Answer
Hi Andrea, Yes this is the full sheet size.
Submitted by: Boxmaker Ann on March 4, 2014
You May Also Like...
3690 - 26" x 18" x 4" Brown/Brown Lock & Tab Corrugated Base Only

$58.70 per Case (25 pieces)

$40.24 per Pack (10 pieces)

3925 - Natural Brown Tulip Cupcake Liner 2" x 3 1/2"

$91.62 per Case (1000 pieces)

$25.86 per Pack (100 pieces)

3926 - Chocolate Brown Tulip Cupcake Liner 2" x 3 1/2"

$94.52 per Case (1000 pieces)

$26.44 per Pack (100 pieces)

3927 - Natural/ Dark Brown Print Tulip Cupcake Liner 2" x 3 1/2"

$94.52 per Case (1000 pieces)

$26.44 per Pack (100 pieces)

3928 - Natural/Red Print Tulip Cupcake Liner 2" x 3 1/2"

$90.92 per Case (1000 pieces)

$25.72 per Pack (100 pieces)

3929 - Natural Brown Lotus Cupcake Liner 2" x 3 1/2"

$86.02 per Case (1000 pieces)

$24.74 per Pack (100 pieces)